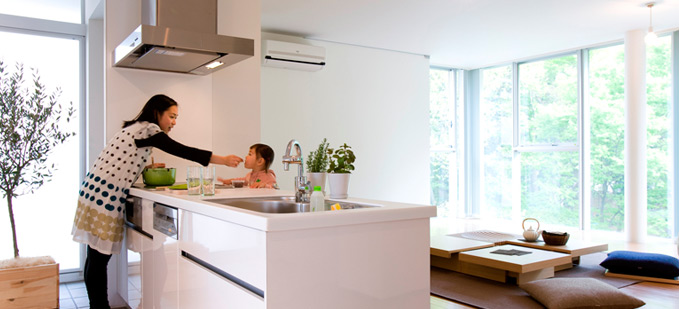 Time
16:30-20:00 (Tentative)
Tour Itinerary
Switch!Station Tokyo (Tour of the Facility & Dining) (*1min on foot from Keio Plaza Hotel)
Dining place
Switch! Station Tokyo - Seminar Room
Dinner Menu and special dietary consideration for religious concerns and vegetarians
Japanese food including sushi, tempura, oden, and some western foods.
These ingredients will be indicated for allergic and religious people. Soba, pork, beef, and others will be indicated.
The number of people (Max)
30
The minimum number of people the project can be carried out
15
Tour Description

*The picture is only for reference.

1. Presentation (30min.)
"Japanese way of living. ~ Comfortable Eco-Friendly lifestyles, fortified by characteristics of four seasons."

Introducing our Japanese housing, energy affairs, and eco-friendly lifestyles. Combining traditional wisdoms with new technology.

2. Experience our reality tour of Japanese housing.
(Showroom Viewing)(30 min.)

In order to bring the APEC common goal of "Low Carbon Societies into Reality", TEPCO will present the "Low Carbon Dioxide (CO2) and Eco-Friendly Lifestyles" at the showroom to be opened in October.
apanese houses are built with not only comfort in mind, but energy savings as well. Even though we have limited space, we enjoy seasonal features and versatile floor layouts that cater to all lifestyles and special occasions. Come and experience our way of life.
Also, explore our different varieties of kitchens made for each lifestyle. For example: "Single, Family, and Elderly Housing Lifestyles."

3. Cooking demonstration and event, with prominent Japanese sushi chef and confectionery. (120 min for 3 and 4)

Chefs from the most noticeable sushi restaurant, "Ginza Kyubei" in Ginza, Tokyo established in 1936, as well as a traditional Japanese confectionery, "Tsuruya Yoshinobu"in Kyoto, founded in 1803 will perform. They will talk about the food culture of sushi made with seasonal materials and colorful seasonal "Japanese confectionery."
Participants can help themselves from forming sushi.

4. Reception (Information exchange) with Dinner

Women working in a variety of fields and female staff at TEPCO's personnel, international and sales departments will dine and talk about other countries' energy saving measure, ongoing result and roles of women.
Introduction of the organizer
Business Size:
TEPCO is sending power to the center of politics and business in Japan, and the sales from the metropolitan area is nearly one third of Japan sales. This is equivalent to the entire sales of Italy.
Higher Quality:
There is a sum of 68 minutes blackout in England and 86 minutes in America every year. TEPCO marks only 3 minutes a year in blackouts, and has a high reputation in our field of work.
Popular Customer Service:
We help customers to prosper with living, by consulting efficient use of power, suggesting efficient electricity uses for their lifestyles, giving environment and energy lectures to children, consulting for developing countries, and so on.
Materialize Comfortable Environment in the Entire Society
We proceed into the systems that emit low carbon dioxide in power production utilizing non-fossil energy sources, as well as improving thermal efficiency of the thermal power generation.