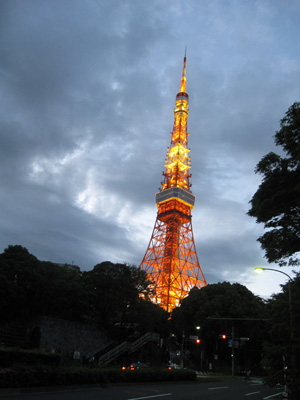 Time
16:30-21:30 (Tentative)
Tour Itinerary
Keio Plaza Hotel - free time in Ginza followed by dinner at "Gin no Tou" (Silver Tower) - Tokyo Tower Observatory - Keio Plaza Hotel
Dining place
"Gin no Tou" (Silver Tower), a famous stew restaurant
Dinner Menu and special dietary consideration for religious concerns and vegetarians
Beef stew or mixed(beef &tongue) stew, steamed rice, pickles, Japanese delicacies, gratin
Vegetable stew also available, prepared with eggs.
Japanese delicacies are cooked vegetables and seaweed. Soybean and fish paste may be used for these dishes.
The number of people (Max)
30
The minimum number of people the project can be carried out
1
Tour Description

Situated in Ginza, Tokyo's famous shopping area, "Gin no Tou" (Silver Tower) is noted for its stew speciality and frequented by many Kabuki actors as the Kabuki theatre is located near by. The restaurant was founded in 1955, a three-storied building, converted from a pawn warehouse. The massive iron doors of a safe still used for the dining room entrance make a strange atmosphere.
Let's talk about women's health and medical service, while having dinner.
After dinner, get a spectacular 360 degree night view from Tokyo Tower observatory 150 meters high atop and see the lights of Tokyo spread out to the horizon.
Introduction of the organizer
Japan Women's Pharmaceutical Association was established by Japan's female pharmacists in 1966 for the purpose of "member's friendship" "social advancement of women pharmacists and improvement of the status" " progress of pharmacy and medicine industry and contribution to development". The current members are some 20,000.
The obligation of the pharmacists in medical treatment who maintain national relief and safety is heavy. Furthermore the energy of women pharmacists who account for a little more than 60 percent of the pharmacist population is asked about urgently.
The association is putting an education course by correspondence that they can learn anytime/anywhere and is holding a training seminar with child care so that the lifelong study and work can be done compatible with their housekeeping.
In recent years the association is also putting the emphasis on a support activity of women pharmacists who aim at an entrepreneur.