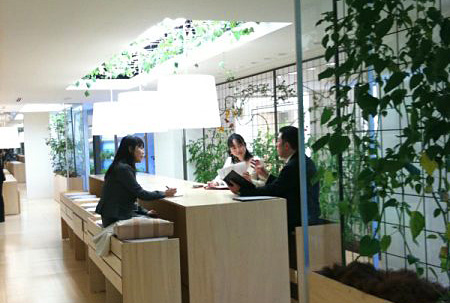 Time
16:30-21:30 (Tentative)
Tour Itinerary
WLN - bus - visit ('Otemachi Building' of the Pasona Group Inc)-- dinner - bus - WLN
Dining place
Pasona Group Headquarters (1Fl Hall Room)
Dinner Menu and special dietary consideration for religious concerns and vegetarians
Buffet style (The main Buffet Menu is the vegetables grown at visitation office)
The number of people (Max)
100
The minimum number of people the project can be carried out
30
Tour Description

1. Tour of the 'Otemachi Building' of the Pasona Group Inc. The new feature is that space for growing crops as well as plants can be seen throughout the offices.
2. Introduction of the most up-to-date case of the 'Plant Factory'. Here we have a specialist to introduce & explain the fundamental cases of of our 'Plant Factory' that we have been working on for quite some time.
3. Social gathering time (Dinner) Dinner buffet at the main hall within the same building.
Participants would get a hint of a healthy working environment by visiting the 'Otemachi Building' of the Pasona Group Inc who are taking a progressive approach to provide workers with a degree of comfort in the offices by including the space there to grow plants. Moreover, Pasona will introduce some particular cases that are adapting leading cutting-edge technology to the potentiality of the 'Plant Factory' under the mounting concerns over the declining rate of self-sufficient food production.
Introduction of the organizer
The Stevie Awards are the world's premier business awards that were founded in 2002. The mission of the Stevie Awards is to recognize and generate public awareness of excellence in the workplace.
The Awards are overseen by a Board of Distinguished Judges & Advisors that includes many leading figures in business worldwide.