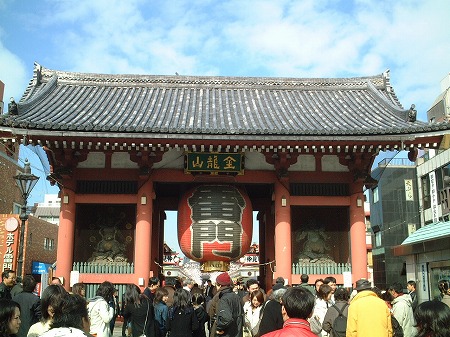 Time
16:30-21:30 (Tentative)
Tour Itinerary
Keio Plaza Hotel Tokyo -> Asakusa -> Dinner Venue -> Keio Plaza Hotel Tokyo
(participants will travel between the hotel and Asakusa via bus)
Dining place
Towada (hand-made soba noodles and Japanese cuisine), 1-13-4 Asakusa, Taito-ku
Dinner Menu and special dietary consideration for religious concerns and vegetarians
Hand-made soba noodles, tempura, etc. Food restrictions can be accommodated for if a request is made beforehand.
The number of people (Max)
45
The minimum number of people the project can be carried out
5
Tour Description

Participants will enjoy visiting Sensoji Temple and a stroll through the Nakamise shopping center located in Asakusa, an exotic area reminiscent of old Tokyo. Participants will then move to a Japanese-style room at Towada, a famous soba noodle restaurant in Asakusa, to hear from landlady and Asakusa Okamisan-kai Chairman Teruko Tominaga about the work that okamisan (landladies) have carried out to invigorate the shopping area. Here, participants will also get to enjoy the taste of handmade soba noodles and tempura.
1. Stroll around Asakusa
-Visit to Sensoji Temple
-Shopping at Nakamise shopping center, an area filled with various old shops, including Edo toys, ningyo yaki (cakes shaped like dolls), kanzashi hair ornament shops, and hand-made senbei crackers.
-Stroll through Denboin-dori, a street that recreates the cityscape of the Edo Period.
2. Lecture and dinner (hand-made soba noodles at the 2nd floor room of Japanese restaurant Towada)

(a) Lecture (a discussion will be held after the lecture)
The keywords are "Bravery, Will, and Energy!"
Lecturer: Teruko Tominaga (Landlady of Towada, Chairman of the Asakusa Okamisan-kai, Director of NPO Naionwide Shopping Center Kamisan Association)
(b) Dinner
Enjoy a dinner of hand-made soba noodles and tempura in the restaurant's Japanese-style room.
Introduction of the organizer
Launched in 1968 and became a cooperative in 1993. The first cooperative in Japan to be established with female members only. At the time of the establishment of the Okamisan-kai, Asakusa was covered by the media as "Dying Asakusa," labeling it as the area of the 3Ks: kitanai (dirty), kowai (scary), and kurai (dark). However, it was these okamisan (landladies) that took the initiative to make something better out of the the place where they lived and loved. After nearly 30 years of work―including constructing guidance map boards, engage in activities familiar to women such as opening kindergartens, and taking part in urban development movements (Asakusa Samba Carnival, double-decker busses, New Orleans jazz performances)―the cooperative went corporate. The organization continues to promote activities and proposals for the Asakusa no Machizukuri (Asakusa area development) project. In addition, inspired by the activities of the Asakusa Okamisan-kai, other Okamisan-kai groups began to spring up around Japan. Now, a National Shopping Center Okamisan Exchange Summit is held every year and other Okamisan-kai activities are underway through the nation.