Status of the Promotion of Gender Equality in Local Public Bodies
Local governments have been promoting measures that consider local circumstances and comply with national policies toward the realization of a gender-equal society.

They have also been pressing ahead with the enactment of ordinances on gender equality. Forty-four prefectures and 168 municipalities have enacted ordinances (known to the Gender Equality Bureau as of December 25, 2003), and determined basic principles for gender equality.

Plans for gender equality have been formulated in all prefectures and 12 government-designated cities. However, no more than 28.8% of municipalities had such plans.


Four female governors submit their proposal to the Chief Cabinet Secretary, Mr. Fukuda.
The average percentage of female members of advisory councils and committees stood at 26.2% in prefectures and 26.0% in government-designated cities, and the trend is for this to rise. Analysis of the percentage of female members of advisory councils and committees established in municipalities in accordance with laws, government ordinances or local regulations reveals that circumstances varied significantly. Although the overall average stood at 18.8%, female representation exceeded 30% in 136 municipalities, and eight towns and villages remained without a single female committee member.
Furthermore, the average percentage of women in managerial positions (positions equivalent to or higher than section chief in the central government) stood at 4.8% in prefectures and 6.3% in government-designated cities, and this is rising gradually.
This percentage stands at 7.2% on average at the municipality level. Women occupy more than 10% of manager positions in 810 municipalities, while 1,273 municipalities (about 40%) do not have any female managers.
Women accounted for 6.7% of assembly members at prefectures and government-designated cities. About 40% of municipalities do not have any female assembly member. There are 4 female governors (8.5% as of the end of July 2003) and 7 female deputy governors (11.1%) at the prefecture level. At the municipality level, there are 7 female city/ward mayors (1.0% as of the end of July 2003), 6 female town mayors (0.3%) and one female village mayor (0.2%).
(Note) Unless specified otherwise, figures are correct as of April 1, 2003 (March 31 in some cases).
FORMULATION OF PLANS FOR GENDER EQUALITY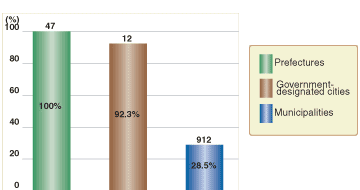 (Notes)
Percentages represent the ratio of all local governments in each category accounted for by those having formulated plans.
Government-designated cities are not included in the number of municipalities.
"Japan Women's Conference 2003 at Otsu"
In the hope, that the 21st Century will be a truly peaceful and equal century, the "Japan Women's Conference 2003 at Otsu" under the motto: "Century of life - Shining Lake Biwa - Men and Women") was jointly held by citizens and the local municipal government in Japan's ancient city Otsu on October 17th and 18th, 2003.

3500 people from all over Japan participated in the conference. They listened to a keynote speech, joined a new experimental symposium on "The Future of a Gender-equal Society through the Eyes of the Younger Generation," took part in 13 workshops and enjoyed 2 exhibitions.

Participants learned practical examples in forming a gender-equal society, and enthusiastically exchanged their opinions.
Concluding, an appeal to the whole country was jointly passed: "Let us build a peaceful and equal society, where everybody is self-reliant. Let us hand over a prosperous earth, where an abundance of creatures coexist, to future generations."